Use This Quick 60-Second Hack to Make Any Pair of High-Heel Shoes Comfortable
Sponsored by Vivian Lou |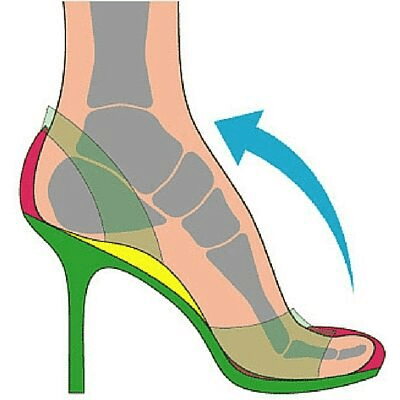 If you are like me, you've probably tried every trick in the book to be able to wear your favorite high heels without the pain.
In my most desperate attempt to wear a 5-inch pair of sexy black platform pumps for the entire night pain free, I even tried filling zip-up sandwich baggies with water, stuffing them in my shoes, and then placing the shoes in the freezer to stretch them out. (Spoiler alert! It didn't work!)
Many choose to just give up on wearing high heels, but that doesn't have to be the answer!
A great pair of high heels make your legs look great and add a boost of confidence in your stride, and there's something empowering about the sound of your own feet clacking against a hard surface. Why on earth would you give up on any of that goodness?
And NO! You aren't going to be doomed to wearing those clunky comfort shoes with the super thick heels made for grannies, either!
Would you believe me if I told you that in just 60 seconds you can "hack" your favorite pair of high heels that "kill" your feet so you can wear them in comfort for longer than usual—and be FOOT PAIN FREE!
I finally discovered a cool little product THAT ACTUALLY WORKS. This is literally changing women's lives. It changed mine. And it's about to change yours too!
There is a lot of false information online that allows women to believe cushion is the answer to eliminating high-heel pain. Have you ever tried those gel or foam insoles you buy at the grocery store or big box retailers, designed to cushion your feet—that just don't work?
Cushion doesn't stop discomfort; it just masks it (and only for a little while).
What's really going to solve this problem for you is getting your foot in the right position inside of your shoe.
Most all shoes aren't designed to do this, which is why most high heels hurt your feet. As you walk, all your weight pushes into the balls of your feet. This creates lots of pressure, which causes the pain.
But, when you can rotate your heel bone up and back to get your weight off the ball of your foot, and instead evenly distributed throughout the front of your foot and your heel (while keeping your foot in place so it's not slipping forward), that's when you are going to be able to strut your stuff down the street in both style and bliss.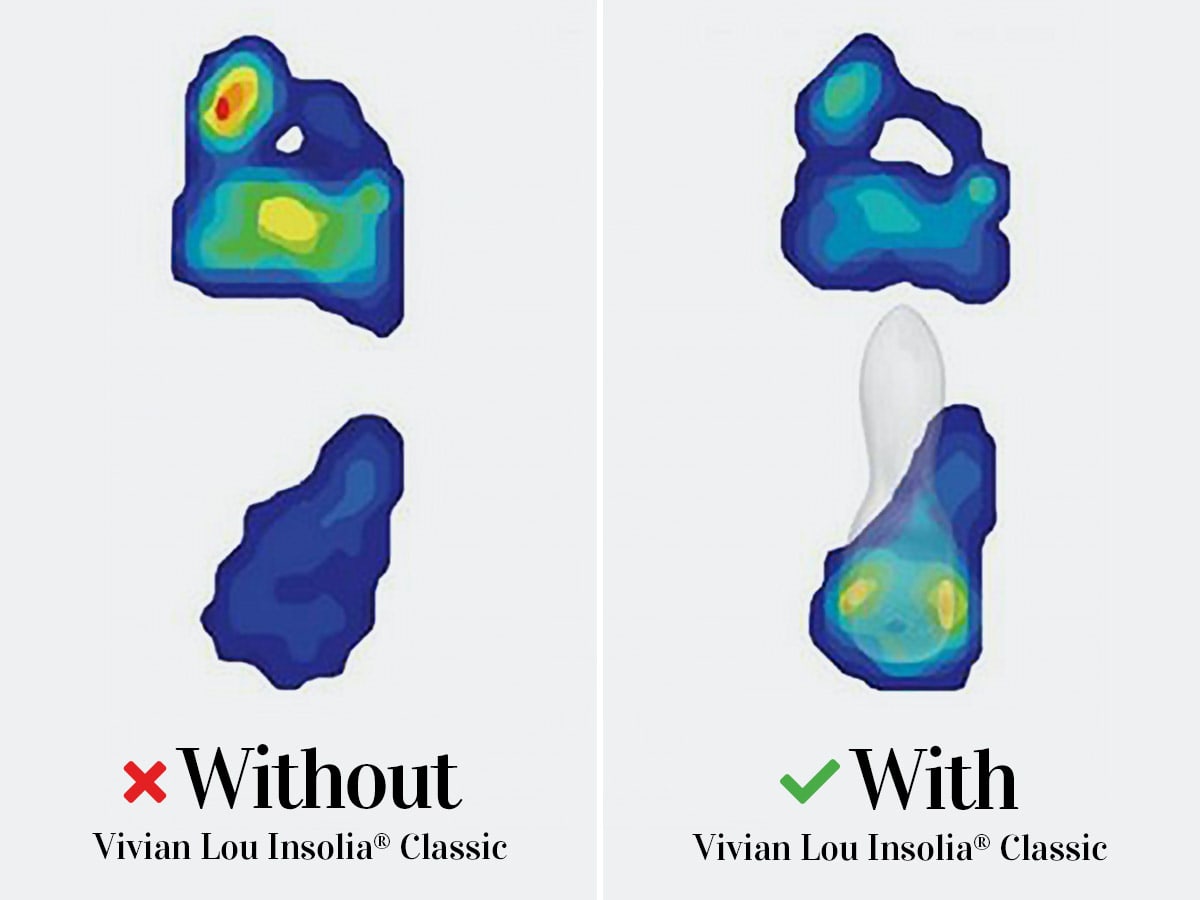 Before using Vivian Lou high-heel shoe inserts, pressure from your body weight in the ball of your foot causes a lot of pain (highlighted in red). With Vivian Lou high-heel shoe inserts, your body weight is now evenly distributed in your foot allowing you to wear your favorite shoes with no pain!
In summary: Even weight distribution + foot stability = TOTAL COMFORT and NO FOOT PAIN!
So how do you do that (because it sounds kind of complicated)?
It's not.
In just 60 seconds you can pop a brand-new revolutionary shoe insert into a pair of your high-heel shoes that will shift your foot ever so slightly into the optimal position and get rid of the pain!
Now, before you say to yourself: "Those shoe insert things don't work!" please know, I thought the same thing too, at first!
But this one is different! Really! Keep reading and you'll soon find out why . . .
The shoe insert I'm talking about is called Vivian Lou, and it's what happens when a podiatrist, rocket scientist engineer, and high-heel shoe lover all come together collaboratively with a mission to help women wear their favorite high heels—WITHOUT PAIN!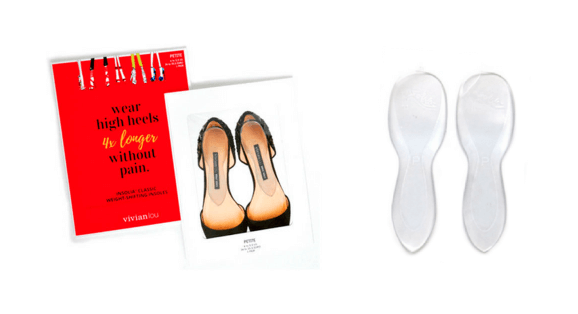 MISSION ACCOMPLISHED! This team figured out how to create a super slim clear resin insert that gets your foot in the exact right position needed to evenly distribute your weight throughout your foot, while keeping your foot from slipping forward.
Vivian Lou is starting to make a name for itself, which is no surprise! Celebrities, Instagram influencers, and everyday women who love wearing high heels are raving about it! (In fact, Vivian Lou has over 1,657 5-STAR REVIEWS on their site.)
Women don't just love them because they work, but because they are super easy to use too!
Simply order your size, and the inserts are ready to be placed in your high heels as soon as they arrive at your door. It takes just 60 seconds! (This means you can put your scissors away. There is no cutting needed to get the perfect fit!)
Here's how they fit in one of my heels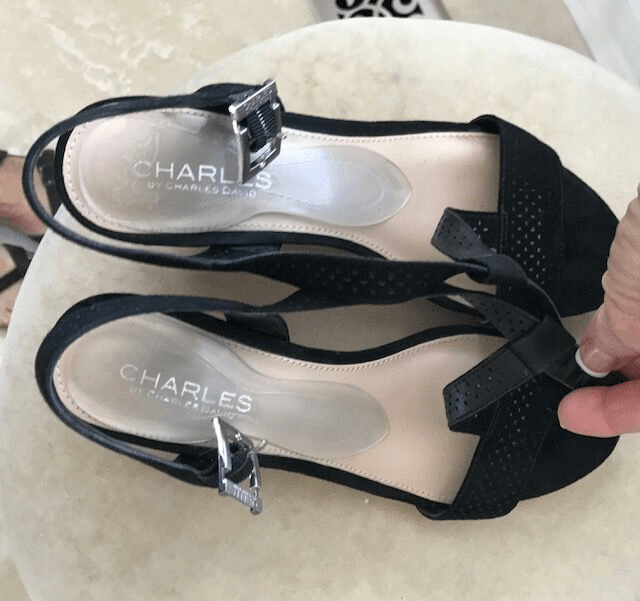 I'm quite impressed with this product. The team over at Vivian Lou really put a lot of thought and care into the design of these inserts.
Here's why you will LOVE them just as much as I do:
* You can't see them in your shoes . . . even strappy sandals.
* The insert is super slim so your shoes won't feel tighter. Actually, you won't even know you are wearing them—except that your feet won't hurt!
* Once you put them in your shoe, they won't move around or slip into an uncomfortable position while you are walking.
* They earned the prestigious American Podiatric Medical Association Seal of Acceptance. (This is a big deal and means they are good for your feet!)
* These are made of clear resin, which means they won't harbor bacteria or odor. (The ones made of foam or gel that you can get at the grocery store or big box retailers can get really gross and smelly.)
* They work!!! I love them in my shoes, and other customers report being able to wear their high heels much longer than normal—WITHOUT PAIN!
* Studies show that when using Vivian Lou shoe inserts in your high heels, posture improves, standing height increases, and back, hip, and knee strain is significantly reduced. (This has been my experience too.)
* They are affordable! Vivian Lou is made to fit any budget.
When I placed my first order, I paid $29.99 to buy one pair, but I JUST ORDERED MORE because I love them so much!
You can always buy just one pair at first if you'd like to give them a try, but they have a few SPECIAL LIMITED-TIME DEALS going on right now for you to choose from if you order online.
IMPORTANT INFORMATION!
Special Offer:
Buy 2 Pairs and Get One FREE + FREE SHIPPING!
OR,
Buy 3 Pairs and Get Two FREE + FREE SHIPPING! (I just did this option when I placed my second order!)
You won't find a better deal than this. Honestly, I never want to have that awful foot pain from my high heels again, and I'm happy to pay $29.99 to avoid all that!
It's so easy and inexpensive, there's really no reason not to order your first pair right now! This is especially true since there's ABSOLUTELY NO RISK to give the Vivian Lou high-heel shoe inserts a try. What I love about this company is that they stand behind their product! Don't love them? Send them back for a full refund. (But you won't want to!)
I hadn't found anything that could help me with this problem until now, and I'm really thankful that I did!
Order Vivian Lou high-heel shoe inserts right now, and today you can join me and the tens of thousands of women who have used their Vivian Lous to wear their favorite high heels all day or all night long—PAIN FREE!
Yes! I Want to Wear My High Heels without Pain!
---
This website is an advertising market place for companies who provide consumers products and services. This website is an advertisement and not a news publication. All persons depicted on this site are models. The owner does not recommend or endorse any specific company. Terms, conditions and exclusions may apply.